CSP DR2 Photometry Released
The second data release of photometry, consisting of 50 new type Ia supernovae, is ready for download. Enjoy.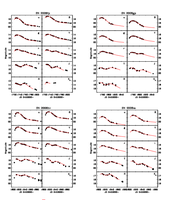 SN Light-curve sample from Stritzinger et al. (2011)
The Carnegie Supernova Project has released its second set of type Ia supernova photometry.  Together with data release 1, this brings the total number of type Ia's to 83, most with optical and NIR coverage.  The details of the data release are described in Stritzinger et al. (2011).  One major improvement over the previous data release is the inclusion of improved filter+telescope+atmosphere functions that should allow more precise S-corrections between different photometric systems.  Photometry, filter functions and zero-points can be obtained here.