CSP DR1 Spectroscopy Released
The first data release of CSP spectroscopy, consisting of 630 spectra of 94 type Ia supernovae, is ready for download. Enjoy.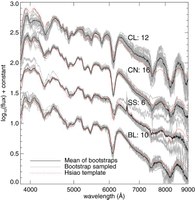 Figure 7 of Folatelli et al. (2013) showing composite spectra of different Ia sub-types.
The Carnegie Supernova Project has released its first set of type Ia supernova spectroscopy.  In all, spectra of 93 type Ia supernovae are included in this release.  The details of the data release are described in Folatelli et al. (2013).  You can download the entire set of spectra from this link. You can also browse the spectra individually by going here.